Home
Product information
Object tracking
– Multiple video security system linked block based object tracking program and protocol
– The object tracking module is a component of the multi-image security system interlocking block. It operates in the IP camera of the security S / W structure of the intelligent image security system. It generates object tracking information for the object recognized through the intelligent image recognition block when an event occurs , CMS [Security Management Server] If the tracked object disappears from the FOV [Field of View] of the IP camera, it notifies the object information disappeared to the CMS and uses the location information of the IP camera to continuously track the object Function that distributes object tracking information to IP cameras. It is a technology that provides a function to notify object information by CMS when object tracking information is similar to received object tracking information in real time when receiving object tracking information.
Application fields and main functions
– Detection and tracking of dangerous situations that can be applied to a wide area environment based on the tracking element technology of the same object which is a development product, applied to a detection area of a dangerous situation for a residential area or safety of the body, S / W Applicable
– Detecting and tracking personal safety through public places other than residential areas, airports, large-scale marts and transportation
– For the real-time risk object tracking in wide-area environments Establishment of image security infrastructure and to monitor and respond to dangerous situations in cooperation with security policy by operating entity Video security system control compliant system
– As the number of cameras to manage increases, control efficiency becomes less efficient and needs to be improved.
Main functions of solution
Main functions of solution
– Technology that generates data that does not change even in the external environment, especially light, for a specific object
– It is a technology that allows peripheral cameras to share the data of a specific object generated.
– A technique of detecting the same object from an image captured in real time using data of a specific object shared by a peripheral camera
– Technology that allows cameras to be controlled in relation to object detection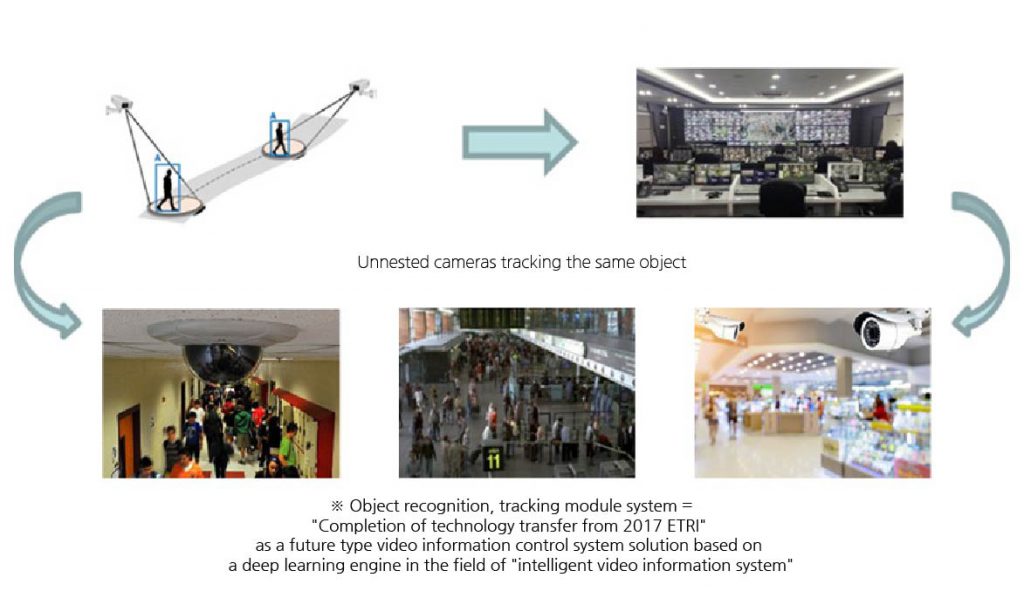 CCTV, CMS Video Recognition Object Tracking System = Control System + Object Tracking
– Technology to find the same object in an environment with multiple non-overlapping cameras
– The technology that can find the same object even in the change of the environment where the camera is installed, especially the color histogram of the same object due to light
– Technique to track objects through metadata analysis of key, size, and weight other than color change of object