Home
Business
Video information data security
Object recognition, detection, tracking
Object recognition, detection, tracking
This product is a system that can track identical objects by utilizing color modeling and data block interlocking technology and deep learning engine modules for detecting and detecting identical object information in many non-overlapping camera environments.
Color modeling techniques are applied to track the same objects of visual information, and the discovered object information is tracked in conjunction with block modules to track the same object information between wide-area heterogeneous cameras and control systems.
In addition, technology support is provided to increase the efficiency of object tracking by applying algorithm-based deep learning engine modules to improve object information accuracy during object recognition, detection.
Necessity
– In the current situation where dozens and dozens of CCTVs are being operated, there is a limit to how the administrator can directly search for a specific object and track the moving path of the image collected in real time
– In order to solve this problem, there is a demand for a technique for tracing a moving path by searching for a specific object without an administrator intervention
Differentiation
– It is easy to maintain and manage because there is no need for preliminary preparation and re-installation, and it can be installed and operated in an embedded system using a simple algorithm
– This technology is easy to maintain and manage because it is unnecessary for preparatory work and reinstallation required by conventional technology
– The algorithm is simple, so it can be installed and operated in a camera that is an embedded system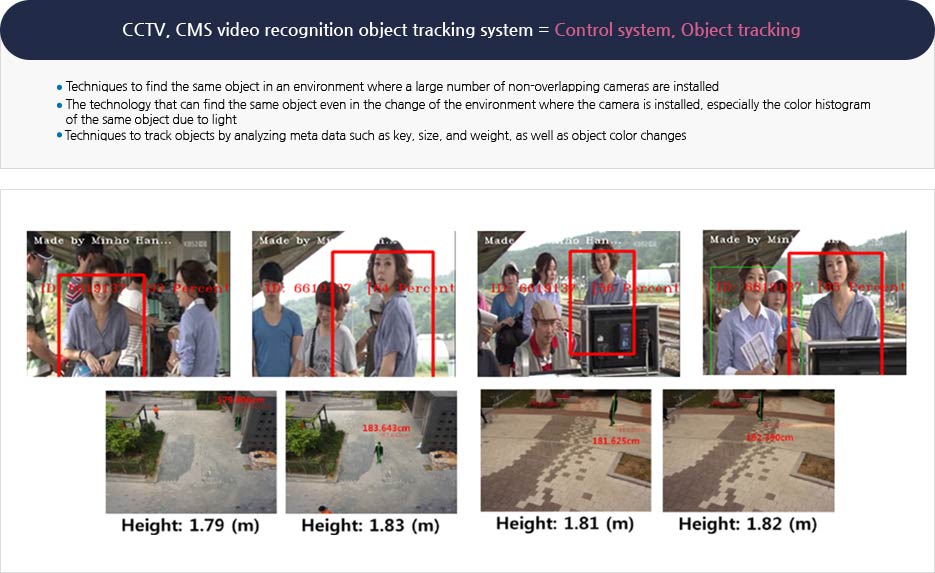 Technical content
– Technology that generates data that does not change even in the external environment, especially light, for a specific object
– It is a technology that allows peripheral cameras to share the data of a specific object generated.
– A technique of detecting the same object from an image captured in real time using data of a specific object shared by a peripheral camera
– Technology that allows cameras to be controlled in relation to object detection