Home
Product information
Online Application Reception System
Online Application Reception System

Internet application form acceptance system Univapply provides quick and convenient online one-stop system for the convenience of administrative work such as university, special university, special purpose high school and Association etc.. throughout the country, administrative work such as qualification examination I will.

Based on our unique cloud and platform environment, UNIVAPPLY Application System provides stable service for more than 10 years and secures know-how through providing application service of various institutions.

It is an application placement platform service that goes ahead also in terms of security, with customer satisfaction the top priority, using Personal Information Protection System (ISMS) certification.

E-government framework-based system

Present status of request application management program (WAS tuning)

Current status of request application management application (application of MVC model)
Strengthen security of application reception

Security of D-DOS server down attacks and hacking programs

Traffic Management System Security
Application system flowchart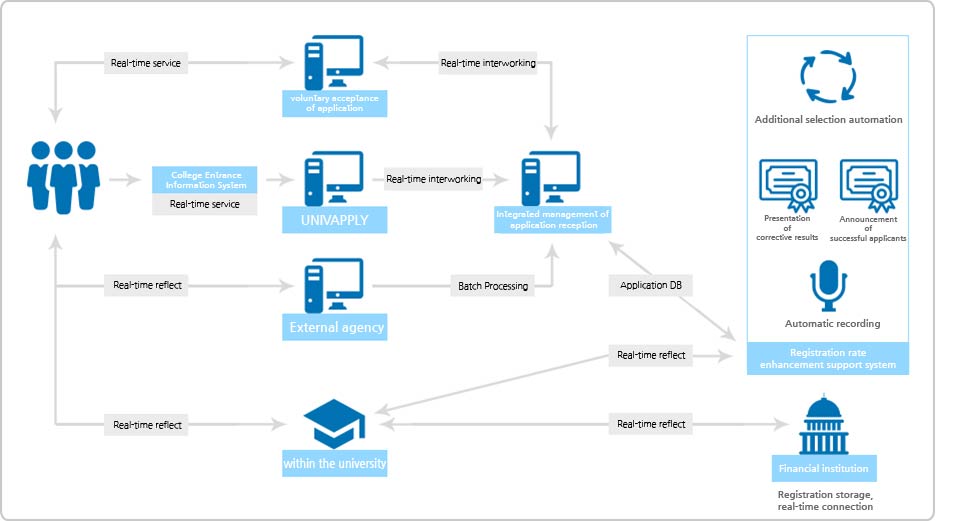 Convenient application reception service: convenient application reception via Internet and mobile smartphone

Application of stable operation function: systematic support and stable operation through experts with expertise in application reception desk agency business and call center operation

Application of administrator function: Application application history management, convenient UI based statistics, output function, portal, and linking of various functions