Home
Business
Other & Overseas projects
Document centralization solution
Document centralization solution


01
By managing all documents in the enterprise's cloud system environment, it is possible to utilize the document as asset value of the company by blocking document loss or leakage by personal management document.
02
By strengthening the security of document management, it is possible to maximize the efficiency of asset management, and more effectively manage document management and corporate technology outflow.
About
EDC provides integrated management/utilization of various contents issued by business from customer by integrated content management engine in a single system structure.
Provide the ability to transfer ownership of a document owned by a user to another authorized user and the user deleted documents are saved in the trash can and the restoration of files or the recycle bin Empty] to restore the file or permanently discard it.
Feature
– Centralized management method considering user convenience
– Using FC Sync & Delete method
– Management of document ownership transfer
– Recycle Bin Management Function
– Classification system and favorite function
– Access privilege setting and encryption possible
– Management and monitoring of usage history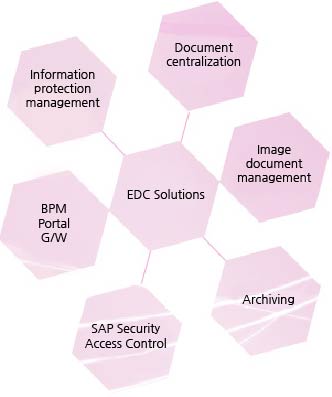 Overview of solution configuration