Home
Product information
Car black box
Product characteristics / introduction

Application of security · solution of consistency of running, image information leakage / unloading and data
Insurance company, National Police Agency Guarantee the consistency of
video information when submitting accident images, hiring evidence
Expectation of privacy protection and prevention of invasion of
privacy via video information leakage / export block
– 2013. 02 : Domestic patent registration (No. 10-1234347)
– 2013. 08 : Domestic patent registration (No. 10 – 1302562) product
– 2015. 03 : Technical Standards Institute KS Technical Examination Certification Solution
– 2016. 04 : Technical Standards Institute GS test certification solution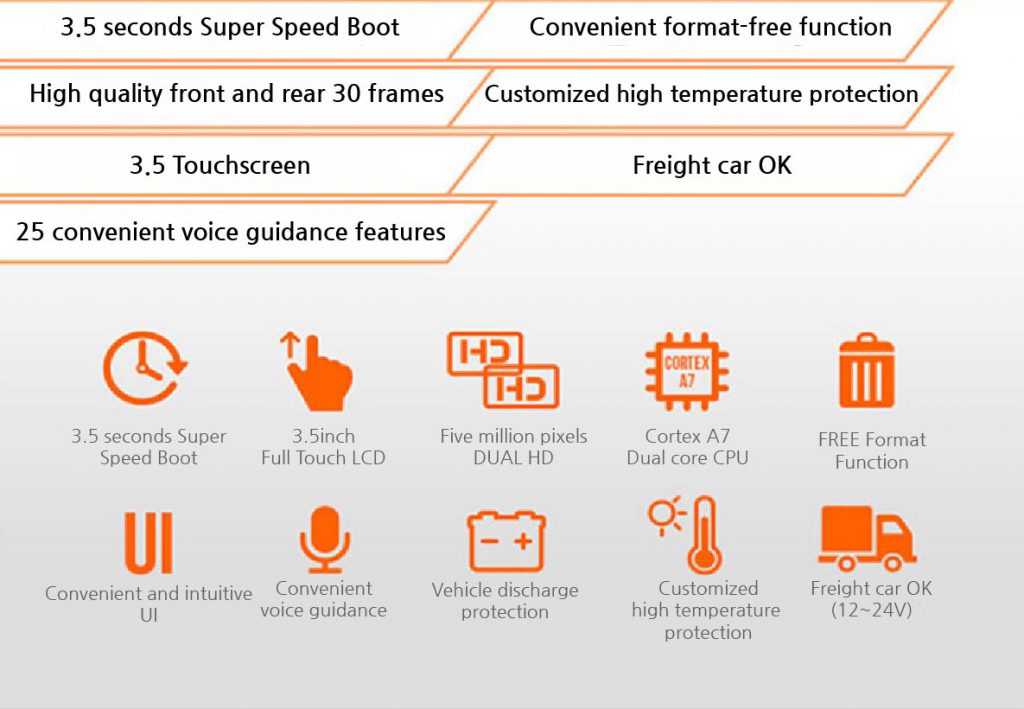 Unrivaled 3.5-second super-fast speed boot
Complete two-channel black box with 30 frames
PIP function enables front and rear images to be simultaneously displayed on one screen
Support smart variety of recordings according to circumstances Various recording modes

Even for a moment you record!

Always recording

Continuous recording is being done from the time when power was supplied in Botech NB – 350 's basic image preservation mode. If storage becomes full, the stored video is sequentially replaced with the new saved video and saved.

Do not miss small changes in the car

Event recording

When a shock is applied to the vehicle or a shake occurs via the three axis impact acceleration sensor (G sensor), the image is immediately saved in the event recording. Since event recording is saved in a separate event folder that is distinguished from continuous recording, you can check the video conveniently and easily.

Even when parking it is always safe recording!

Parking lot greening

Detect motion with small motion or shock via motion directing technology and sensitive shock sensor to detect motion and save the image. The Botech NB – 500 will protect the reassuring vehicle even when parking.

Easy manual recording with the desired video button (emergency recording)

Manual recording (emergency recording)

You can quickly save images via manual recording when witnessing an accident while driving or want to preserve a beautiful scenery. Manual recorded video is stored in separate storage and can be quickly and easily checked at any time.
| Category | Specifications and Comments |
| --- | --- |
| LCD / PIP | 3.5 inch TOUCTH LCD / PIP support |
| Image sensor | APTINA Sensor / Pixel Plus Sensor |
| Lens angle of view(Main / Sub) | Front 138 degrees / Rear 120 degrees |
| Illumination / LED | 0.5LUX or more / High luminance LED built-in |
| Video input / output | AV Output port(2.5pie) |
| Interface | TV Out port, External GPS port , Micro USB rear connector |
| Resolution | Front 1280 x 720 (HD) / Rear 1280 * 720 (HD) |
| Frames | 30 frames / second or more before and after |
| Safeguard | When the set voltage is reached, the power is automatically cut off |
| Memory / Storage Method | Micro SD 4GB - 32GB(class 10) / Over Writing |
| Voice recording / voice output / operation information | Built-in high sensitivity MIC (MUTE support) / High performance speaker / Voice announcement |
| GPS Module | External GPS type (optional), Location/Time/Speed Support |
| G-Sensor | 3D acceleration sensor(x,y,z) |
| Operating voltage(V) / Operating temperature / Preservation temperature / power consumption | 12 – 24V / -10 degrees ~ -80 degrees / -20 degrees ~ 90 degrees / Max 3.7W |
| Battery | Super Capacitor |
| Recording mode | Always Recording / Events / Park Mode Recording / Motion Recording |
| Normal recording / Shock recording / Emergency recording | 1-minute recording / 15 seconds before impact ~ 15 seconds after impact / 5 seconds before occurrence ~ 15 seconds after occurrence |
| Printing method | NTSC |
| Security | High Brightness Security LED(Security enabled) |
| PC-Viewer / PC Operating environment | Dedicated PC Viewer(Previewer support) / Win XP, Vista, Win7 |
| F/W UPDATE | Firmware update support |
| Product SIZE | 102 x 68 x 28 (mm) / 50 x 28 x 30 (mm) |