Home
Business
Educational administration system
Document security


01
Ensure secure distribution of documents by securely encrypting all output documents, security encryption of document output by electronic document security solution (forge alteration prevention solution)
02
Resolve temporal and spatial discomfort through the Internet and configure the service so that users can issue documents they desire immediately
About
Based on 2D barcode, watermark solution, university Internet certificate issuance and unattended certificate issuing machine solution.
E-DOCU-CERT has a license of anti-counterfeiting solution that is essential for the issuance of Internet certificates and can be recognized legally.
It is the only company in Korea that has technical know-how on online issuing system and off-line unmanned certificate issuance system, as well as document counterfeiting and anti-modulation solution.
Feature
– E-DOCU-CERT Commercialization
– 5 kinds of anti-tampering technology license Unauthorized issuance KIOSK commercialization
– Card, cash etc coupled with Billing System
– ERP linkage
– Direct issuance through the university's own server
– Formatting and output using the reporting tool
– DRM for file forgery prevention
– Copy protection through watermark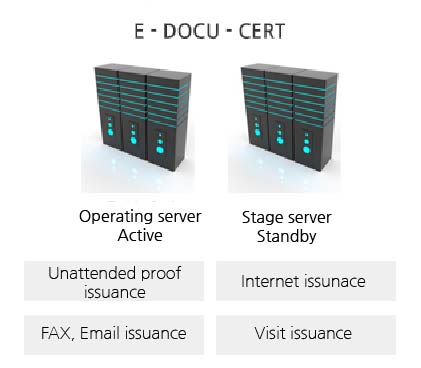 Forgery / alteration prevention technology